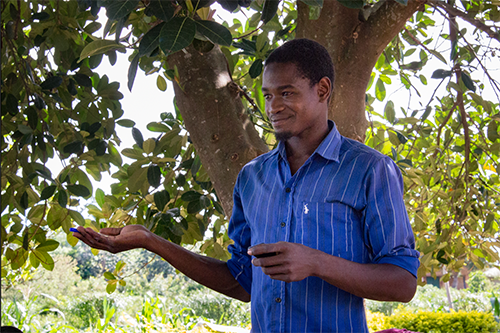 Peer leaders take turns chairing small "reflection circles" where youth association members receive support and mentorship. Peer leaders take turns chairing small "reflection circles" where youth association members receive support and mentorship. This year's International Youth Day, observed on August 12, focuses on creating safe spaces for young people—places where they can come together, engage in activities that address their diverse needs and interests, participate in decision-making and freely express themselves.
Safe civic spaces enable young people to engage in governance issues; safe economic spaces provide opportunities for creativity, risk and support. When youth have safe spaces in which to engage, they can effectively contribute to development, including peace building and social cohesion.
Working with over 27,000 youth in Uganda, the Youth Empowerment Through Agriculture project (YETA), which NCBA CLUSA is implementing in partnership with Mastercard Foundation, has supported the formation of 800 youth associations, which are providing safe spaces for entrepreneurship, leadership and life skills training.
Reaching out to youth individually is not always realistic for a program of this scale. YETA is able to achieve scale by working in groups. This model makes it easier for YETA as well as the Ugandan government to provide youth access to training and support. Members of each youth association can share their ideas and access resources for their businesses more easily when they operate as a group.
As part of group cohesion and peer support, YETA introduced a new mentoring approach called Reflection Circles. These circles are a way for youth to meet in smaller, more intimate settings to discuss and find solutions to their personal issues as well as challenges with their businesses. These circles consist of 5 – 7 young people who meet twice a month to present their issues, ask for advice from peers, and challenge each other to find solutions.
In a Reflection Circle, everyone is a leader. The chairperson of the next meeting is selected at the end of every meeting. Circle members typically meet regularly for 8-12 months or until they feel a strong enough connection and support to consult each other when addressing a challenge.
Through these Reflection Circles, youth have found solutions to domestic challenges, issues related to land access, management of their individual and group business, and challenges around their Village Savings and Loan Associations (VSLA). These small groups provide youth a safe space to freely express themselves. Some, particularly young women and girls, had never imagined themselves as leaders are leading small groups.
Having these smaller circles structured into the youth association allows for additional support and mentorship. Issues that are unable to be resolved within these circles are presented to the larger youth, and if solutions are not found, issues are then escalated to YETA staff or the appropriate government official.
Reflection Circles create unity, cohesion, and accountability. The circles have kept the larger youth associations together by fostering accountability created within the sub groups.
By creating safe spaces for youth to support each other and address personal as well as economic challenges, this provides a strong foundation to invest in entrepreneurial activities or move into leadership positions in the community.